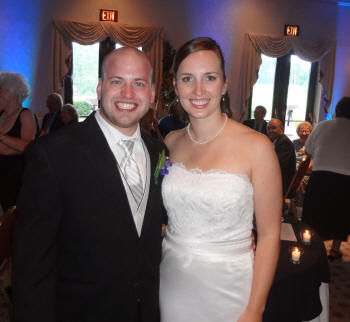 Deanna Fletcher / Joe Manbeck
DEANNA & JOE'S
LOVE STORY
(Special note: - Deanna & Joe wrote their love story with both reading the story to each other and to their guests)
CLICK HERE
- To watch the video of Joe & Deanna's love story on our Facebook page
Joe: In the summer of 2009, before we met one another, Deanna and I were both looking for jobs. I had just graduated college and Deanna had just finished her first term with AmeriCorps. Separately, we both decided to join an AmeriCorps program with Habitat for Humanity, Deanna in Dover, Delaware, and me in Spokane, Washington. As part of the volunteer program, we were expected to attend a national conference in Talladega, Alabama where we learned more about Habitat and how to better perform our jobs. There was also time for having fun and playing games at this conference, and this is how we ended up meeting.
Deanna: The first evening of the conference, Joe and I were separately looking for something to do during the free time. I and that group of girls from Connecticut over there (wave your hands!) wanted to play foursquare but didn't know how. A larger group formed and still, no one knew the rules. And in walked Joe. After he taught us all how to play, we started calling him "coach" and continued playing into the evening. I ran into "coach" a few times over the next 5 days of the conference and then we each returned to our respective coasts, him to Spokane and me to Dover.
Joe: From there Deanna and I went our separate ways and never saw each other again�no, obviously not. Fortunately for us, Habitat required attendance at another conference that term, this time in Cedar Rapids, Iowa the following June. On the first day of this conference, the girls from CT and Deanna thought they recognized "coach" eating lunch in the cafeteria and after debating whether or not it was me, approached and said hi. This is when I began pursuing Deanna.
Deanna: It was more like stalking�He looked for me in the cafeteria during meals and looked for me in the evening during free time, found me on the bus to ride to our site together. I tried to lose him a couple of times, but thankfully I had no such luck. We ran around their track, played a made up pool game, watched a little league game, and jogged around the campus together. I wasn't so sure about him yet, but he knew he liked me. We returned again back to our own Habitat affiliates, but this time we talked about getting together in the summer when we both were back in PA.

Joe: I flew back from Spokane in July 2010 and was planning on calling Deanna to see if she really did want to get together to hang out.
Deanna: But I beat him to the punch. I ended up driving up from Dover, picking him up at Dan�s apartment in Bethlehem and we continued on to Hershey Park for our first date, although we wouldn�t have called it that at the time. We enjoyed a day on the rides and the water park and then drove up to Joe's parents in Lewisburg. We went to help out at the buggy museum and I started to meet his wonderful family. I think I won over Grandpa that day.
Joe: After the buggy museum, Deanna continued on to her parent�s house. I wasn�t sure if we were going to see each other again. I really liked her, but I wasn�t sure if she felt the same way. I wanted to give her a hug as she was leaving, but she just got in the car and drove off�I thought that was it.
Deanna: OK, your dad was standing right there. I wanted to hug you too, but it just felt weird.
Joe: Anyway, we talked and texted over the next few weeks and to my surprise, she wanted me to come out to visit her in Clymer. I drove out and we hung out by the pool, and went to a Pirates game together. On the way back to her parents from Pittsburgh, I told her how I felt and she agreed. We made our relationship official then and there. Had I known we were getting together I wouldn�t have signed up for a second AmeriCorps term in Spokane, but there was nothing I could do about it at this point. So I flew out to Washington a couple weeks later for another 10 � month term.
Deanna: And we started a long distance relationship. I flew out in November and he took me hiking and off roading. He flew back in December and we got together over Christmas break. We both flew to Vegas in February and hiked in Red Rock canyon and took the Hoover Dam tour. In May I flew out to Washington and we hiked at Steamboat Rock State Park. It was hard being apart, but we got to know each other through talking on the phone and Skyping. It was difficult, but I think we got to know each other in a way that we couldn�t have done if we lived closer to each other.
Joe: In July of 2011, I finished my term and drove back from Spokane. Dan flew out and drove back with me and my dog. I ended up taking another AmeriCorps position with the Habitat affiliate Deanna was with when we met. Now that I was on the east coast, I still wanted to live closer to her. That fall I proposed while on a hike at Killens Pond State Park in Delaware. I got down on one knee, and she said, �What are you doing?!� I told her how much I loved her and how I wanted to spend the rest of my life with her
Deanna: and I said yes which is why we're here today.
Joe: ...and we're happy that you all could join us